A TRIBUTE TO GARY DEE (GILBERT)

R.I.P. 1935-1995
"Giv'em Steel!!"
The most dynamic radio personality ever to grace the air waves of Cleveland, Ohio was Gary Dee.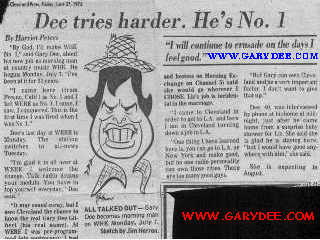 Gary Dee was a master at stirring up controversy, yet he did it with humor.
Gary's rapport with his listeners was unheralded. His favorite topics were religion, race, and politics.
I remember Gary Dee's first radio program. It was on February 14, 1972, and was referred to as
The St. Valentines Day Massacre. I was in electronics class at Max Hayes High School. We
were asked to bring in some type of broken electronic equipment and then repair it. I brought
in a radio and after a simple fix, I turned the radio on. The radio just happened to be tuned to
WERE 1300 AM. The shouting and screaming came blaring out of the radio, and soon the entire
class (including the reluctant instructor) was in front of the radio laughing at the antics of
Gary Dee and his listeners. I worked at "repairing" that radio for many weeks to follow.
In 1972 Cleveland was a national joke. Nobody wanted to live here.
Downtown was a deserted wasteland after 6 PM.

Gary Dee sought to change Cleveland's image.
Much work still had to be done, and Gary Dee was the man to do it.
Today, when you visit Cleveland, you see new skyscrapers, The Rock & Roll Hall of Fame,
The Indians, The Browns, The Cavaliers, and (LeBron James used to be loved here)
And as of July 11, 2014 LeBron James is loved here again!
Today, politicians, preachers, and ethnic leaders are all quick to take credit for
Cleveland's revival. Few, if any mention Gary Dee, so I thought I should.

Thanks Gary, and if God has a sense of humor, I'm sure you've got him in stiches by now.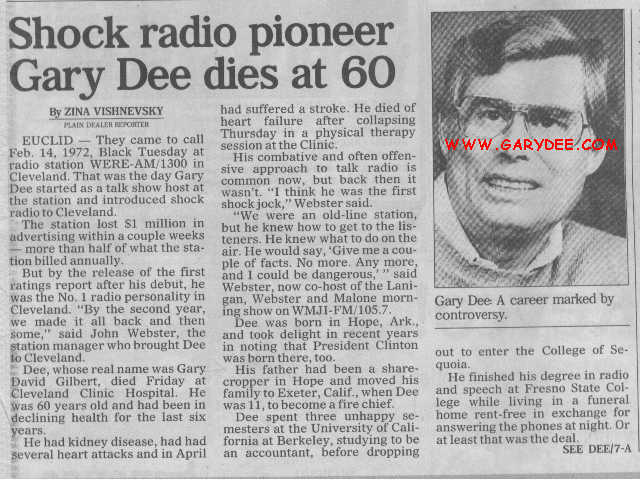 ---

Gary Dee's Obituary (Cleveland Plain Dealer Nov 12, 1995)

---

Condolence Book
(Here you can read comments from listeners who remember Gary Dee)

Page 1 | Page 2 | Page 3 | Page 4 | Page 5 | Page 6

Please Sign The Gary Dee Condolence Book

---

---

---



---